Two brands, the same ergonomic and creative vision.
Rexsitt and Gollinucci Daniele intertwine in a cobranding that interprets Design for professional chairs, in all its aspects: the fusion of technical quality, Italian craftsmanship and search for detail.
About us
An Italian weave that combines artisanal quality and technical inspiration with everyday office life. The story of Rexsitt and Gollinucci begins in the 1960s, in the Cesenate countryside of Romagna, where the Gollinucci family handweaves straw chairs. Thanks to the intuition of Emilio and Alberto Gollinucci, the workshop quickly became a space to manufacture tapestry for chairs, until they make wooden chairs, putting them together and covering them with a large variety of fabrics. During the first half of the 1970s comes the idea of creating a seat specifically designed for the office, one that is both ergonomic and functional.
The commitment to design and a passion for innovative research are transmitted to the next generation and to Daniele Gollinucci. Grew up closely with the company's artisanal origins, Daniele energetically pursues the development of new designs dedicated to ergonomic seating, together with his sons and valuable collaborators, drawing inspiration from its territory.
Be comfortable in Sustainability
A greener vision of the future, the only
one that is really possible and imaginable. Sustainability for us is a matter of breaking down barriers and a commitment to the planet, present and future, which flows into our daily activities, creating innovative, efficient and circular processes.
Recyclable and certified materials, a
strong focus on post-consumer disposal, an optimised management of internal resources, emissions and industrial waste: every single aspect embraces the intention of leaving to next generations a world in which they can feel comfortable, one to live the best.
Selected Materials
Among the production technology and the skill of the craftsmen at the Bertinoro factory (Forlì-Cesena, Italy), selected materials appear to be the true protagonists of Gollinucci and Rexsitt's design chairs.
The textile department is continuously engaged in research and development, with a know-how that recalls the tapestry tradition and emphasizes the future of raw materials.
The wide range is suitable for any taste
and interpretation, always maintaining a sustainable heart, with highly recyclable components and FSC-certified materials, providing environmentally friendly elegance and comfort.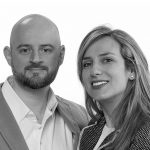 Stefano Sandonà design studio
Dialogue between different languages and cultures.
This is the design approach os STEFANO SANDONA' and SABRINA BETTINI. Their creations result from the influences of elements of contemporary culture: graphics, the digital world, movement.
Inspiration is drawn from travel, architecture and landscape and translated into sinuous objects, coloful and sensory.
Born in Padua in 1974 and educated in the arts, Stefano is a designer capable of synthesising aesthetics, innovation and function into timeless designs with strong appeal.
Sabrina, born in 1978, is a Brazilian from Sao Paulo with a degree in architecture from FAU Mackenzie and IUAV in Venice; she gained her practical experience working in architecture firms and construction companies in Brazil and Italy.
Partners in life and at work, they founded Sandonà Design studio in 2006 in Italy. Activities range from industrial design and product consulting to the exhibition of architecture, with a particular focus on forniture. They have received prestigious international awards including the GOOD DESIGN of Chicago Athenaeum, IF Design of Hannover, RED DOT Essen, GERMAN DESIGN AWARD nominee.
Their works can be found as part of the collections of some museums and exhibitions.
Massimo Costaglia
Massimo Costaglia Design is an industrial design studio in Padua – Italy, founded in 2001 by Massimo Costaglia.
Our professional team consists of engineers and designers specialized in the office furniture area.
The Team's creativity and technical expertise allow the development of innovative solutions that often lead to patents.
Massimo Costaglia Design has a wide technological experience and knowledge of 3D Modeling and FEA. This allows the development of the entire Design Process from the initial sketch to the realization of the prototypes. The Studio has modern 3D printing technologies and 3D scanners which, combined with manual skills, allow the creation of prototypes independently and in-house.
Massimo Costaglia Design collaborates with prestigious companies in Europe, North America and Asia. The fruitful collaboration with our customers has led to obtaining important design awards:
Stefano Bettio design
Stefano Bettio was born in Montebelluna in 1975.
After graduating in mechanical technical subjects, he began his career in the sector of office, home and horeca seating in international companies such as research, development and engineering. This flexibility leads him to work with all kinds of materials and projects. After familiarizing himself with 3D modeling, he becomes familiar with 3D printing, prototyping and industrial design technologies.
Sensitive to design and lifestyle changes he adopts a critical thinking in design and respect of the environment, focusing efforts to create timeless designs.
In 2005 he opens his own studio where he works as an industrial designer, product development, design consultant for Italian, European and American companies.